Deutscher Text . Photo Gallery
LogicLounge opens on Karlsplatz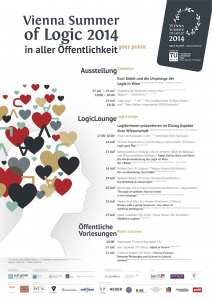 Meeting place for friends of logic at Heuer Coffee Bar Garden Restaurant during Vienna Summer of Logic 2014 • Insights in exactly one hour live and in public • Tribute to antique philosophical symposium
The LogicLounge is the pop-up meeting place for friends of logic from science and the public. During the Vienna Summer of Logic 2014 logicians from the fields of philosophy, mathematics, computer science and artificial intelligence present basic concepts of the "science of reasoning". Discussing these concepts with their hosts live and in public for exactly an hour from 17:00 to 18:00 on seven dates July 14–23 the scientists offer insights into the millennium old discipline of logic, celebrating the antique concept of the philosophical symposium (from Greek συμπίνειν sympinein, "to drink together").
Set at the Heuer Coffee Bar Garden Restaurant at the Kunsthalle Wien right on the Karlsplatz within easy reach of the three venues the LogicLounge is the enlightening and entertaining epicenter of the world's biggest conference on logic.
July 14: Logic goes Pop
Christos Papadimitriou (UC Berkeley) – Helmut Veith (TU Wien)
July 15: Gödel, Escher, Bach und Falco: The rediscovery of logic in 1980s Vienna
Georg Gottlob (U Oxford) – Oliver Lehmann (Klub der Bildungs- und Wissenschaftsjournalisten)
July 16: The incomplete Kurt Gödel
Richard Zach (U Calgary) – Thomas Kramar (Die Presse)

July 19: The Game of Truth
Roderick Bloem (TU Graz) – Michael Fleischhacker (NZZ)
July 20: The logic of symbols: How to invent a new language


Byron Cook (UC London) – Katharina Gsöllpointner (Angewandte)

July 22: Drones with a guilty conscience: the ethics of Artificial Intelligence


Moshe Vardi (Rice U) – Herbert Hrachovec (U Wien)

July 23: Female logics


Magdalena Ortiz (TU Wien), Ruzica Piskac (Yale U) – Tanja Traxler (Der Standard)
Time 17:00-18:00 on seven days during the conference (s. above)
Location Heuer am Karlsplatz at the Kunsthalle Wien Karlsplatz
Address Kunsthalle Wien Karlsplatz, Treitlstraße 2, 1040 Vienna
Web http://vsl2014.at/logiclounge/
LogicLounge am Karlsplatz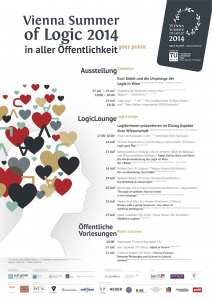 Treffpunkt für FreundInnen der Logik im "Heuer am Karlsplatz" während des Vienna Summer of Logic 2014 • Erläuterungen in exakt einer Stunde live und vor Publikum • Reverenz an antikes philosophisches Symposium
Die LogicLounge ist ein temporärer Treffpunkt für FreundInnen der Logik aus den Wissenschaften und der Öffentlichkeit. Während des Vienna Summer of Logic 2014 präsentieren LogikerInnen aus den Bereichen Philosophie, Mathematik, Computerwissenschaften und Künstliche Intelligenz die Grundlagen der "Wissenschaft von der schlüssigen und exakten Argumentation". In Diskussion mit ihren GesprächspartnerInnen werden die WissenschaftlerInnen live und vor Publikum innerhalb exakt einer Stunde von 17:00-18:00 an sieben Terminen vom 14. bis 23. Juli Einblicke in die Jahrtausende-alte Disziplin der Logik ermöglichen. Damit würdigen sie das antike Konzept des philosophischen Symposiums (vom Griechischen συμπίνειν sympinein, "gemeinsam trinken").
Veranstaltungsort ist das Heuer am Karlsplatz bei der Kunsthalle Wien Karlsplatz, die in unmittelbarer Nähe der drei Tagungsorte des Vienna Summer of Logic liegt. Somit wird die LogicLounge zum informativen und amüsanten Epizentrum der weltgrößten Konferenz zum Thema Logik.
14. Juli: Logic goes Pop
Christos Papadimitriou (UC Berkeley) – Helmut Veith (TU Wien)
15. Juli: Gödel, Escher, Bach und Falco: Die Wiederentdeckung der Logik im Wien der 1980er
Georg Gottlob (U Oxford) – Oliver Lehmann (Klub der Bildungs- und Wissenschaftsjournalisten)
16. Juli: Der unvollständige Kurt Gödel
Richard Zach (U Calgary) – Thomas Kramar (Die Presse)

19. Juli: Die Wahrheit als Zahlenspiel
Roderick Bloem (TU Graz) – Michael Fleischhacker (NZZ)
20. Juli: The logic of symbols: How to invent a new language
Byron Cook (UC London) – Katharina Gsöllpointner (Angewandte)
22. Juli: Drones with a guilty conscience: the ethics of Artificial Intelligence
Moshe Vardi (Rice U) – Herbert Hrachovec (U Wien)
23. Juli: Weibliche Logiken
Magdalena Ortiz (TU Wien), Ruzica Piskac (Yale U) – Tanja Traxler (Der Standard)
Zeit 17:00–18:00 an sieben Tagen während der Konferenz (s. oben)
Location Heuer am Karlsplatz in der Kunsthalle Wien Karlsplatz
Adresse Kunsthalle Wien Karlsplatz, Treitlstraße 2, 1040 Vienna
Web http://vsl2014.at/logiclounge/
Photo Gallery
(click to enlarge)