Registration and Help Desk
The registration desk is located in the
Freihaus Building (FH)
, on the
first floor
, 
in front of Hörsaal 1 (Area C, Red)
.
Opening hours: 8:00–18:00 daily, 8:00–19:00 on July 13
Registration opens on July 12, 2014. All VSL participants except those who registered for the workshops starting on July 12 can register a day before their conference / workshop starts. You will receive your badge and all conference materials at the registration desk. The registration desk also serves as a help desk.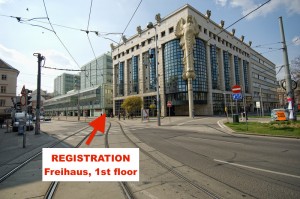 See the Overview Map below.
Venues
Mathematical Logic
+ Award Ceremonies
Computer Science / FLoC
+ Registration
Artificial Intelligence
+ VSL Keynote Talks
Building

Main Building (MB)

Freihaus (FH)

Gußhausstraße (EI)
Address
Karlsplatz 13,
1040 Vienna
Wiedner Hauptstraße 8–10,
1040 Vienna
Gußhausstraße 25–29,
1040 Vienna
Subway
U1, U2, U4 (station Karlsplatz)
Tram
1, 62, Wiener Lokalbahn/Badner Bahn
(station Resselgasse)
1, 62, Wiener Lokalbahn/Badner Bahn
(station Paulanergasse)
Additional Locations
Informatikhörsaal (RTA-TLCA) next to Freihaus (Treitlstraße 3, 1040 Vienna, ground floor)
Seminarraum 1/3 OPG (ICLP Summer School) next to Freihaus (Operngasse 11, 1040 Vienna, 3rd floor)
Seminarraum 107/1 across the street from Freihaus (Goldenes Lamm, Wiedner Hauptstraße 7, 1040 Vienna, 1st floor)
Off-site Venues (Receptions, Banquets)
The location to off-site venues (receptions, banquets) is described on a separate page.
Rooms
Looking for a particular conference or workshop? Check here for list of workshop rooms and workshop rooms.
Overview Map
Interactive Google Map: http://vsl2014.at/go/me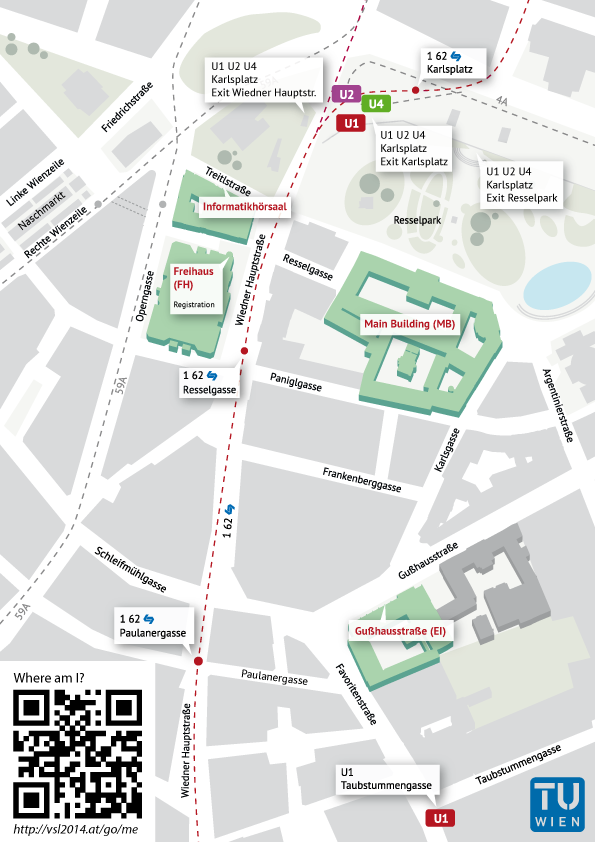 Map of the Main Building